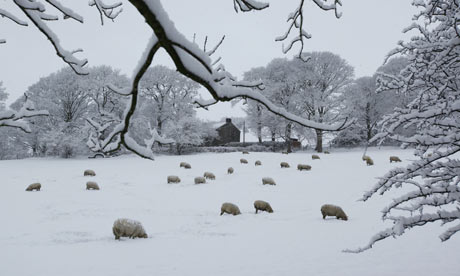 With this week's remarkably low temperatures of -17C in some places in England, I wondered how these compare with the absolute records for the UK. It seems we still have some way to fall to beat them. According to the Met Office the absolute lows are:
Scotland
-27.2 °C      11 February 1895 in Braemar (Aberdeenshire)
-27.2 °C     10 January 1982 in Braemar (Aberdeenshire)
-27.2 °C     30 December 1995 in Altnaharra (Highland)
England
-26.1°C     10 January 1982 in Newport (Shropshire)
Wales
-23.3 °C     21 January 1940 in Rhayader (Powys)
Northern Ireland
-17.5 °C     1 January 1979  in Magherally (County Down)
I also enjoyed reading this rebuke in The Guardian to the rather stupid and dangerous columns doing the rounds in some of the British press, claiming that this cold snap proves the world isn't growing warmer.. The article ends:
…This is called weather, and, believe it or not, it is not always predictable and it changes quite often. It is not the same as climate, and single events are not the same as trends. Is this really so hard to understand?
Photo Snow in Bury, Greater Manchester. Christopher Thomond The Guardian