Jota – dance
A dictionary of Spanish history and culture
a – b – c – d – e – f – g – h – i – jk – l – m – nñ – o – p – q – r – s – t – uv – wxyz
A dance and song form which is popular throughout Spain and which probably originated in Aragón. The Aragonese jota is the best known in the country. The term Jota seems to derive from xota , which come from the mozarabe *šáwta , jump, which itself comes from the Latin saltare , to dance.
Video here of an Aragonses jota: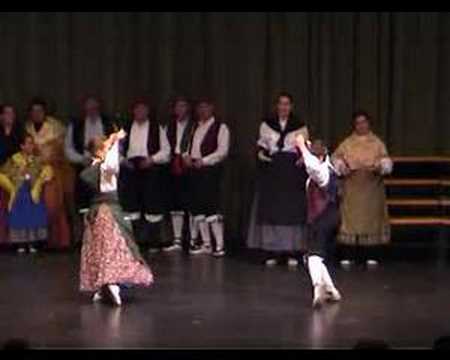 Aragonese jota (Wikipedia) The Aragonese jota is the best-known expression of Aragonese folklore. It dates as far back as the 18th century, and reached the pinnacle of its splendor in the 19th century. Due to the complexities of the dance steps and manner of singing, the jota has evolved. Since the end of the 19th century, heavily choreographed versions have often been made for zarzuelas, movies, contests, festivals, and other entertainments.
La Jota Aragonesa. Plenty of mp3 to listen and kick your legs to here.
Keywords:Spanish jota, jota dance, what is a jota? jota songs, jota recordings, jota mp3, jota English