August 30th, 2009
Mexico offers some great opportunities for whale watching. More than 20 species of cetaceans spend time around Baja California. Star of the show goes to the Grey whales which make a migration to the Sea of Cortez every Autumn from the northern Bering waters to give birth to their young and spend the winter in the warm waters near the equator. This is the longest migration of any mammal, traveling 6,000 miles at a steady speed of about 4 knots.
Whale watching in Baja California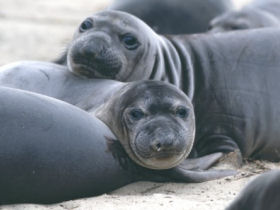 This exclusive marine safari is an exhilarating combination of some of the world's best whale watching and whale interaction together with a fascinating insight into Mexican wilderness and wildlife. Read more here
You can expect to see a high number of whales including the mightiest creature on earth, the Blue whale. Also commonly encountered are Humpbacks, Fin, Bryde's, Sperm, Pilot and even Killer whales, not to mention Bottlenose, Long-beaked and Short-beaked common dolphin. In the pristine untouched bays and lagoons, you can snorkel in search of manta rays and turtles while Sea Lions, Elephants Seals and Fur Seals lounge around the beaches. Wheeling above in the clear skies are over 130 species of sea and land birds, from Brown pelicans to the endemic Xantus' Hummingbird. Read more here
Whale watching in the Sea of Cortez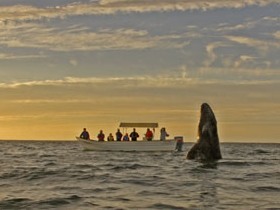 Spend nine intensive days in the Sea of Cortez in Mexico. You will be guided by a professional, experienced whale watching crew for six days on a boat. See Sperm-, Brydes-, Pilot-, Humpback Whales, Orcas, dolphins and rays, sea lions and many different sea birds,and if we are fortunate, we might meet the biggest mammal on earth: the Blue Whale. The remaining three days are spent on land. Go out twice daily with zodiacs to meet the migrating Grey whales which come into the shallow waters to mate and give birth sheltered by low barrier islands, Magdalena Bay provides a perfect and peaceful winter home to the California Gray whale. Read more here
See also this excellent site – Whale watching in Mexico
More than 20 species of cetaceans spend time around Baja. Grays breed and calve in the lagoons along the Pacific. Bahia Magdalena is a center for gray whale observation. Humpbacks and blues breed in the Sea of Cortez; Bahia de los Angeles is the center there. If you're the kind of person who prefers to remain on shore, the Cabo San Lucas at the peninsula's southern tip is a good spot to observe passing whales and have your feet firmly planted on the ground.
And Mexico Whale Watching, Whale Watching in Los Cabos Mexico
Mexico whale watching will reveal colonies of grey whales that are among the most gentle whale species in the world. Grey whale mothers are incredibly protective and make especially attentive caretakers. Tourists are likely to see mothers at play with their calves, and can be seen carrying their calves on their back when the young become tired.