Gorillas in Camaroon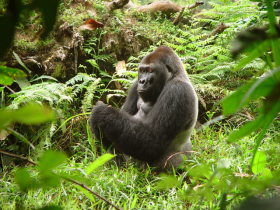 Begin in Limbe, home to one of Cameroon's most important primate conservation programmes where you'll meet the gorilla, chimpanzee and other primate groups. You then visit the Dzangha Sanga Reserve and see a recently habituated group of Western Lowland Gorilla. More here
Cameroon "new gorillas" need protection
A Cameroonian environmentalist group is lobbying for the establishment of a new national park at Cross River on the Nigerian border to protect a little known sub-species of gorillas only living there.

The Cross River Gorilla (Gorilla gorilla diehli) is the least known critically endangered sub-species of gorillas, living in the forest of both sides of the Cameroon-Nigeria boarder in numbers of 250 individuals.

Now, the Cameroonian conservation and wildlife protection group ERUDEF is hoping the little exploited habitat of the gorilla sub-species may be set aside as a national park.
Wildlife and nature guides to the world