Rural tourism in Slovakia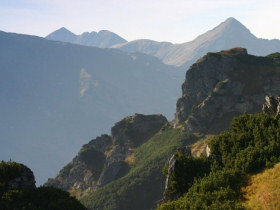 Slovakia, one of the wildest countries in Europe, is home to some stunning scenery and rugged mountainous landscapes including the Carpathian Mountains which run across most of the north of the country. Within this range, close to the Polish border, are the High Tatras which are a popular skiing destination and home to many scenic lakes and valleys as well as the highest point in the country. Many people live in the Tatras from sheep farming. In contrast, southern lowlands are much more fertile, with warmer summers. Much of  Slovakia is made out of limestone, which in combination with springs and rivers has led to the formation of Karst caves, many of which are open to the public. The limestone has helped form a landscapeof beautiful rocky formations, canyons and waterfalls. The country is great for walkers with thousands of well-marked hiking trails.
Top rural destinations in Slovakia
The Tatras – some of the most beautiful mountains in Europe
Slovak Paradise National Park — Slovenský Raj consists of deep gorges formed by the water cascading in waterfalls through the limestone. (Wikitravel)
Country holidays and accommodation and in Slovakia
Tatra Mountains family holiday In the heart of Tatra Mountains you'll head  out on a different trip each day:  hiking in the mountains, cycling along valley trails, river rafting, horse riding through the meadows, trying your hand at traditional crafts and a visit to a spectacular ice cave.
Bear tracking trip in the the High Tatras in Slovakia. Expert guides and rangers lead the bear project. Participants search not only for bears, but also wolves and wildcats, etc.
More rural holidays in Slovakia
Articles about rural tourism in Slovakia

Back to nature with rural tourism
It was not so long ago that remote locations untouched by civilization were thought to have little chance of attracting tourists in Slovakia. Now, the number of people who are seeking out remote regions and small family bed-and-breakfasts offering homemade food and the peace of the countryside is turning agritourism into a noticeable trend.
Bears tracking in Slovakia's High Tatras You wouldn't want to come across one on your own (or would you?), but tracking brown bears with an expert team in Slovakia's High Tatras can be an exciting fun thing to do (The Guardian)
Is Slovakia skiing's new frontier? With superb, empty slopes and bargain prices, it's no surpise the Tatra mountains are being touted as the next big thing.
Bird watching in Slovakia (The Guardian)
The Tatras national park, a wild area of Slovakia on the Polish border, is the place to find owls. Ural, Tengmalm's and pygmy owls and the Eurasian eagle-owl all nest in the area. These high, forested mountains are well-known in their deciduous sections for at least five types of woodpecker, including the syrian and grey-headed. Where corncrakes have all but disappeared from our landscape, here their grating call can often be heard in the meadows. Higher up, in the conifer forests, you can find capercaillie, hazel and black grouse; in the skies soar imperial eagles and sakers.
See Sarus Bird tours After arrival in Kosice, we drive to the Tatras National Park, on the Polish border, Here, we will begin searching for our target species. Our local guide will hopefully have good nesting sites for three owl species, Ural, Tengmalm's and Pygmy, and we can look for Eagle Owl. Several Woodpeckers are also resident, including Black and Three-toed, and we may find Grey-headed, as well as Green and Great Spotted.
Thermal Paradise in Liptovský Ján
A winter affair (The Guardian) Despite its stunning natural beauty, and its medieval towns and villages and unspoilt rural landscape , the Spis region in eastern Slovakia is almost unknown for the many tourists.
Webs about rural tourism in Slovakia
Keywords
Wildlife holidays in Slovakia, Adventure tourism in Slovakia, Hiking in Slovakia, Trekking in Slovakia, Outdoor pursuits in Slovakia, winter sports in Slovakia, adventure sports in Slovakia, Cottages in Slovakia, Rural houses in Slovakia, Rural retreats in Slovakia, Rural hotels in Slovakia, Rural apartments in Slovakia, Rural hostels in Slovakia, Cabins or bungalows in Slovakia, Camp sites, camping in Slovakia, where to stay in Slovakia,
Wildlife and nature guides to the world