Wildlife of Cambodia
Wildlife in Cambodia seems to be recovering at last from those terrible decades and elephants, tigers, leopards, wild ibis and ox are now being spotted in numbers not seen for many years. That said, problems are numerous, and many species are threatened, endangered, or critically endangered because of deforestation and habitat destruction, poaching, the illegal wildlife trade, and farming, fishing, and forestry concessions.
Volunteering with bears in Cambodia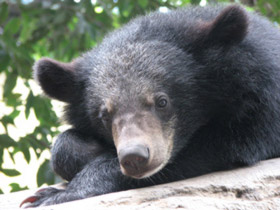 Work as a volunteer at a bear sanctuary, helping to care for over 80 bears that have been rescued from poachers, the black market and businesses using them for entertainment. More here
Brief introduction by Wikipedia
Cambodia is home to a diverse array of wildlife. There are 212 mammal species, 536 bird species, 240 reptile species, 850 freshwater fish species (Tonlé Sap Lake area), and 435 marine fish species.

Wildlife in Cambodia includes dholes, elephants, deer, wild oxen, panthers, bears, and tigers. Cormorants, cranes, parrots, pheasants, and wild ducks are also found, and poisonous snakes are numerous. Deforestation, mining activities, and unregulated hunting, have diminished the country's wildlife diversity rapidly.

Fortunately, much work is being done in this area to help conserve and protect Cambodia's unique wildlife. Wildlife conservation organizations operating in Cambodia include Conservation International, World Wildlife Fund, the Wildlife Conservation Society, Fauna and Flora International, BirdLife International, Wildlife Alliance, and many others.
The Return of Cambodia's Wildlife In the far east of Cambodia, in biologically rich forest bisected by the Srepok River, environmentalists are observing a steady return of some of the region's rarest wildlife after the long years of violence that ravaged the region.
The Cambodia Wildlife Sanctuary was created to protect and conserve the unique animals and remarkable habitat of Cambodia. One million acres of this rich forest landscape and diverse wildlife population are now protected by the Cambodian Wildlife Sanctuary for future generations to see and enjoy. In partnership with the government of Cambodia, the project agreement is already in place to protect them in perpetuity.
Cambodian Wildlife – excellent images and good trip report from Cambodia
Long-tailed macaques like these are very much at home with people, you can even photograph them at Wat Phnom in the middle of Phnom Penh. You might guess that this is a mother and child, but you'd be wrong.   This is a male which picked up the juvenile a couple of minutes before I took this photo beside the road at Angkor Thom.
Cambodia – WSC
By the mid 1990s, a semblance of peace had returned to Cambodia. WCS and other organizations helped the government implement a series of biological surveys across the country, which clarified which areas were most important to conserve. They also revealed a land that was still rich with flora and fauna, home to rare mammal and bird species such as tigers, Asian elephants, vultures, and ibises. Cambodia's infrastructure suffered extensively during the years of conflict, however, and poor access to roads and markets meant that many villages were isolated for up to six months of the year. Poverty was rampant, and local communities depended heavily on natural resources for their livelihood.

After completing the surveys, WCS began working in partnership with several Cambodian government agencies in three landscapes: Tonle Sap lake and floodplain, the dry dipterocarp forests of the Northern Plains, and the evergreen forests and grasslands of Southern Mondulkiri.
Cambodia – WSC
Populations of six critically endangered birds inhabit WCS-supported sites in Cambodia—the white-shouldered ibis, giant ibis, Bengal florican, and three vulture species.
Southern Mondulkiri may be one of only two places in Asia that contains eight species of cat, including the tiger.
Southern Mondulkiri is also one of Cambodia's last strongholds for elephants; recent surveys have tallied about 120 individuals living here.
The most important waterbird colony on Southeast Asia's mainland is at Prek Toal Core in the Tonle Sap Biosphere Reserve, where new protection measures have boosted populations of some key species by tenfold.
Wildlife and nature guides to the world