Wildlife of Ethiopia
Wildlife and nature of Ethiopia (photo GertVankrunkelsven).
Ethiopia is home to some of the wildest and most interesting  habitats on the planet, with a large number of indigenous plant and animal species. Birdlife is particurly rich.
Ethiopia has a wide range of indigenous plant and animal species. Much of the mountainous terrain is covered with bushes such as pyracantha, jasmine, poinsettia, and a range of evergreens. The lakes peppering the Great Rift Valley region abound with numerous species of birds, and wild animals are found in every region, including lions, civets, servals, African elephant, bush pig, gazelle, antelope, ibex, kudu, dik-dik, oribi, reed buck, wild ass, zebra, hyena, baboon, and a number of monkeys. In 2002, studies counted 277 species of mammals, ??? species of birds, and more than 6,600 plants.Wikipedia See also Environmental issues in Ethiopia
Guide to wildlife parks of Ethiopia
With  a network of fourteen important wildlife reserves, Ethiopia can be seen as a microcosm of the sub-Sahara. Bird species abound, and indigenous animals include the rare Walia ibex, the shy wild ass and teh Ethiopian wolf. When the rain come, Ethiopia is cloaked with flowers and a hge number of native plants. More
10,000 foreign tourists flock to Semien Mountains Good news for wildlife tourism and conservation in Ethiopia. The Semien Mountains National Park secured more than 1.4 million Birrfrom tourists who visited the park last year, coming to see endemic animals such as Walia Ibex and Ethiopian Wolf.
Wildlife and walking holidays in Ethiopia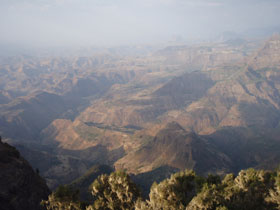 Also on Wikipedia (main Ethiopia page)
Historically, throughout the African continent, wildlife populations have been rapidly declining due to logging, civil wars, hunting, pollution, poaching, and other human interference. A 17-year long civil war along with severe drought, negatively impacted Ethiopia's environmental conditions leading to even greater habitat degradation. Habitat destruction is a factor that leads to endangerment. When changes to a habitat occur rapidly, it doesn't allow animals time to adjust. Human impact threatens many species, with greater threats expected as a result of climate change.

Ethiopia has a large number of species listed as critically endangered, endangered and vulnerable to global extinction. To assess the current situation in Ethiopia, it is critical that the endangered species in this region are identified.
An Assessment of Ethiopia's Wildlife Situation From Ethiopian Reporter, Feb 20, 2002 "Hereunder is an honest assessment of the current situation for wildlife in Ethiopia, with some practical suggestions of what may yet be done, to stem the erosion, for some semblance of a recovery to be realised in a few key areas" More
2005 news aritcle on Ethiopian wildlife
Ethiopia's wildlife population is declining at an alarming rate, according to one of the country' s leading conservation experts. Species such as lions, elephants, the Ethiopian wolf, the African wildass, rhinos and many more are in danger of extinction, said Fanuel Kebede, head of the wildlife protection team of the Ethiopian government's Wildlife Conservation Department
Ethiopan natural history society (Birdlife partner)
Superb landscape photos
Ethiopia's magnificent landscape ranges from desert areas to forested highlands. At 4,620 meters, Mount Ras Deshen is Ethiopia's highest peak, and Africa's fourth highest, but twenty mountains rise to more than 4,000 meters. The waters of the Abay River, or Blue Nile, feed Lake Tana and flow into the Nile. Most of the Nile's waters originate in Ethiopia. More
Wildlife and nature guides to the world