Samburu National Reserve
The Samburu National Reserve is located on the banks of the Ewaso Ng'iro river in Kenya; on the other side of the river is the Buffalo Springs National Reserve in Northern Kenya. It is 165 km² in size and 350 kilometers from Nairobi. Geographically, it is located in Samburu District of the Rift Valley Province.

There is a wide variety of animal and bird life seen at Samburu National Reserve. Several species are considered unique to the region, including its ts unique dry-country animal life: All three big cats, Lion, Cheetah and Leopard, can be found here, as well as Elephants, Buffalos and Hippos.
Samburu and Buffalo Springs – short but good article
Not as popular as some other parks in Kenya, but it is hard to see why.
Kenya tribes & Samburu wildlife holiday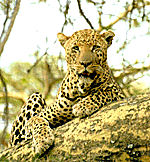 Cross into the Northern Hemisphere on our drive to Samburu Game Reserve, witnessing the majestic view of the snow capped Mt. Kenya that straddles the equator. Afternoon game drive. Samburu astounded the world when a lioness here adopted four baby oryxes, which in nature should have been an easy meal. Wildlife includes reticulated giraffe, lions, leopards, Grevy's zebra and hundreds of migratory birds. Overnight in tents. More here
Samburu warriers help to protect wildlife
In June, nearly 200 people from across Ngutuk Ongiron Group Ranch in Samburu District gathered for the launch of Warrior Watch programme. Warrior Watch is a unique conservation programme in Samburu that engages warriors, or morans, in active wildlife conservation. Warrior Watch was co-founded in early 2010 by the Westgate Community Conservancy and Ewaso Lions, a project that takes a community-based approach to predator research and conservation in northern Kenya.
Wildlife and nature guides to the world