Wildlife of Malaysia
Malasysian wildlife holidays – Great selection of trips around the world's oldest rainforests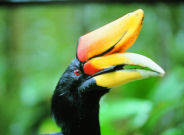 The Malaysian Nature Society has been contributing towards the protection of Malaysia's natural heritage since 1940.
Malaysia National Parks – Good introduction

It would be difficult to overstate the attraction of Malaysia for anyone who appreciates the natural world. Its primal forests, ranging from shoreline mangrove to mountaintop oak, are of the sort that most of the world now knows only in myth. Although Malaysia's size is similar to that of Norway, natural trees and forests cover almost three quarters of the land, an area equivalent to almost the entire United Kingdom.
Malaysia introducing tough new wildlife laws
By the end of the year, Malaysia will begin enforcing its new Wildlife Conservation Act 2010 including stiffer penalties for poaching and other wildlife-related crimes, such as first time punishments for wildlife cruelty and zoos that operate without license.
Malaysia – WSC
Malaysia is a wet, tropical country that is home to some of the world's oldest rainforests and a remarkable array of wildlife species. Its forests spread from the coast right up to the mountains, encompassing coastal mangroves, peat swamps, and montane forests. The country is separated into two major regions by the South China Sea. To the east is the Malay Peninsula, which extends southward from mainland Asia, and to the west is Malaysian Borneo, which includes the states of Sabah and Sarawak. The Malay Peninsula is home to endangered elephants, tigers, gaur, tapirs, hornbills, and bearded pigs. Sabah and Sarawak shelter proboscis monkeys, Bulwer's pheasants, endangered orangutans, red-banded langurs, clouded leopards, and populations of sun bears and sambar deer. Habitat for many of these species is shrinking, and unsustainable hunting also poses a serious threat to their survival.

Fast Facts

In both East and West Malaysia, the main human population centers are near the coast.
Taman Negara National Park, in the heart of peninsular Malaysia, has the largest known population of elephants in Southeast Asia.
The red-banded langur occurs only in the peat swamp forests along Sarawak's Maludam River; their total population numbers fewer than 200
Bornean pygmy elephants are found only in Sabah.
Although Malaysia is increasingly industrialized, large-scale agriculture and forestry are important sources of employment and revenue for many rural households.
Malaysia is located in the center of Southeast Asia, home to a vast range of tropical rainforest that teem with the wonders of nature. The amazing wildlife species found only in this region have long been the fascination of researchers and explorers around the world. Divided into Peninsular Malaysia in the west and Borneo in the east, Malaysia's natural heritage has been the subject of countless documentaries and continues to yield astounding discoveries of new flora and fauna species till this day. The great diversity of life that you can only find here is well worth a journey from anywhere across the globe, so come uncover the marvellous ecosystem of Malaysia while development has yet to overtake it completely.
Books about Malaysia
Wild Malaysia: The Wildlife and Scenery of Peninsular Malaysia
Borneo: Sabah, Sarawak, Brunei (Bradt Travel Guide) – A personal favourite: I love the Bradt Guides
Malaysia (Globetrotter Wildlife Guide)
More links
Wildlife and nature guides to the world