Leopards in South Africa
Leopards are present in almost all the game parks of South Africa, but are very difficult to see. The best chances exist in the private Londolozi Game Reserve in the west of the Kruger. Photo taken in the Kruger National Park, South Africa near the Malalane gate by Arno & Louise on Flickr.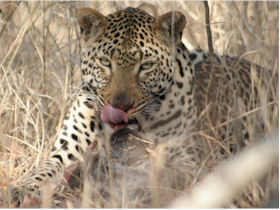 Thaba Tholo is an exclusive private 6,000 hectare reserve, where you will have space and time to explore, guided by one of our experienced rangers. Brunch is followed by time to relax and enjoy the views from Black Leopard Camp or perhaps take a soak in your luxurious, private outside bathroom with mountain gorge views. When the heat of the day has faded a little, you join our rangers learning to track leopards and other predators within the Thaba Tholo reserve, where the Ingwe Leopard Project is monitoring the resident leopard population. More here
Londolozi is synonymous with leopards. Over the past thirty years the leopards of Londolozi have developed legendary status, owing to the truly remarkable partnership between the leopards and rangers and trackers. Usually regarded as elusive, shy and solitary, these elegant, patient cats are more easily observed at Londolozi than anywhere else in Africa.

Our leopard family tree boasts 18 different individuals and guests regularly witness remarkable leopard sightings. We identified 54 different leopards in 2005. In the month of May 2006 we enjoyed 128 different leopard sightings. In 2008 & 2009 that number has solidly increased, with rangers and guests enjoying regular sightings of over 23 different leopards.
It took seven long, hard years, but Cape leopard researcher Quinton Martins's persistence paid off when he found and could photograph a pair of newborn Cape leopard cubs believed to be a first for the Western Cape.
The Cape Leopard Trust aims to optimally facilitate conservation of the Cape's predator diversity. The leopard fills the role of the apex predator in the Western Cape ecosystem and acts as an "umbrella species" which will effectively help in the conservation of smaller, lower profile predators. Its resilience to persecution notwithstanding, the leopard has suffered extensive range loss in the Cape and is now extinct in many areas of the province where it formerly occurred.
Wildlife and nature guides to the world