Meercats in South Africa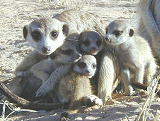 Wild meerkats in the Klein Karoo
From R 400 (GB £35) (2 hour tour) ex flights
Featured on National Geographic, BBC, and Discovery Channel, the Wild Meerkat Project is run by Grant, an active nature conservationist with a passion for these industrious little mammals. The tour starts just before sunrise, when the meerkats leave their burrows to warm up in the sun. World meerkat expert Grant will arrange an ideal spot for you to observe them sunbathing, while he expounds on the intricacies of their behaviour and communication. But be warned: these plucky creatures have a disconcerting habit of observing you right back! More here

BBC radio 4 documentary about Meercats and Pied Babblers. Recorded in the South African Kalahari near the border with South Africa
The Pied Babbler is a bird that, rather like the meerkats, has discovered that co-operating with each other in a family group is by far the best way to avoid being eaten by the myriad of predators in the desert.

They all share the family chores and keep an eye on each others back. The remarkable thing about Aubrey Manning's visit, as he avidly shares with us, is the tameness of the animals.

Meerkats are feeding their young around his feet at the same time the babblers are fending off a pygmy falcon in an Acacia tree above him.
Suricates spend a lot of their time on guard, looking out for predators. (Meerkat is a South African Dutch word meaning 'lake cat' since Meerkats are often found near stretches of water.) Suricates have a tan to grey coat with brown bands on the back and sides, the head and the throat are greyish white.
Wildlife and nature guides to the world