August 27th, 2009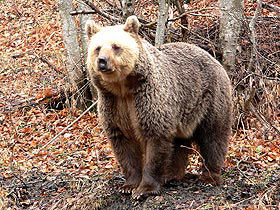 Central Europe is still home to healthy populations of brown bears with some 4,000 to 5,000 animals.
Taking advantage of this, Romania, Bulgaria and Slovakia all offer some great bear tracking holidays. Here's a few of them:
Bear tracking in the Piatra Craiului National Park in the Carpathian mountains. The area is home to the highest concentration of wolves, bears and lynx in Europe and remains an area of interest for researchers and wildlife enthusiasts alike. Tracking mammals on foot with an award winning expert guide Read more
This eight-day bear tracking trip in Slovakia looks very interesting indeed. You'll work with the expert guides and rangers who lead the High Tatras bear project, you will search not only for bears, but also wolves, wildcats and more.
Bulgaria is one of the best places for watching brown bears in Europe with a population of some 600-800 bears. This short holiday offers you the chance to see bears in the heart of the most unspoilt part of the Rodopi Mountains.
Volunteer work in a sanctuary near Brasov Romania. which will enable captive bears to be re-homed in 10 hectares of forest. Where possible, young bears will be rehabilitated and returned to the wild. As a volunteer you'll be helping with a wide range of tasks, including feeding the bears, monitoring their progress, helping at the 'bear hospital', maintaining fences and facilities and showing visitors around. Read more here
Further north, another bear watching hotspot is Finland. Its vast taiga forest is still home to sizeable numbers of brown bears. Read more