July 30th, 2010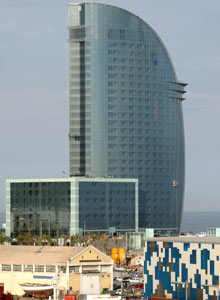 This shit building with the awful name of
W Barcelona
has ruined the skyline of Barceloneta offering 900 euro a night beds for the rich. A boil on the face of the neighbourhood.

A more balenced view of this monstosity at the Guardian.
The American owners claim their hotel, officially the W Barcelona, is "a modernist masterpiece of avant-garde architecture" whose facade reflects "the captivating colours of the Catalonia sky". However, elsewhere there has been less praise. The El País columnist Agustí Fancelli denounced the "scandalous privatisation" of one of the key points in the city, comparing the hotel to "an inglorious beer belly".