April 11th, 2010 | by nick |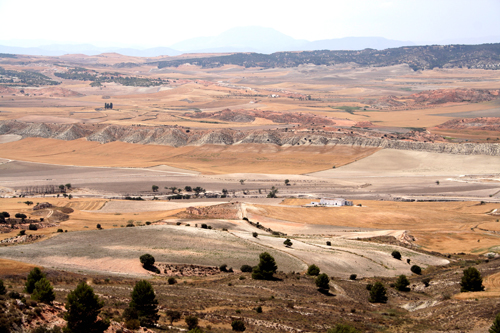 High in the Parque Natural Sierra María-Los Vélez in northern Almería a new and cultural weapon has been unveiled to combat the hearts and minds of those not convinced that urgent action needs to be taken to preserve our landscape, flora and fauna.
Cortijada Los Gázquez, in the heart of the natural park, runs a project called 'Joya; a residency for artists working within transition culture'. The term 'transition' refers to the transition from our planet's reliance on crude oil to ecological systems. The term culture refers to a grass roots dynamic group of people who are putting the future of the planet first and are working towards a sustainable way of living.
So far the residency has attracted internationally know artists from California, New York and Canada as well as most countries within Europe. Phase two of the Joya project is called 'Joya; tierra' which seeks to turn the 19 hectares of Cortijada Los Gázquez's land into a space for land and environmental art. Simon Beckmann (developer of this project along with his wife Donna) says…
'Unlike politics, art has the power to change the way we perceive the world we live in and Almería, at the forefront of European desertification, is unique for artists, being at once so beautiful and yet under so much environmental pressure. The artists that come to the Joya project are people who have dedicated their work to issues surrounding our environment. In these desert mountains, as elsewhere, the entropic influence of mankind can be seen in every vista and it is the perception of artists and the enduring works of their imagination that will articulate the reasons to change, the reasons to live sustainably for all our futures'.
The Joya project has been officially endorsed by the University of Granada, Faculty of Fine Arts with an official relationship between the two entities as well as validation for the creative courses run at Cortijada Los Gázquez. For more information visit their web site 
http://www.losgazquez.com/en/