163 speces discovered in the Mekong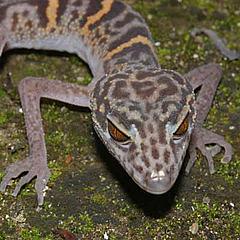 A new WWF report celebrates the recent discovery of 163 new species in 2008 in the Greater Mekong region of South-east Asia – including a bird-eating fanged frog, a leopard-patterned gecko (pictured above) and a bird that would rather walk than fly. But the report wans that many may soon face extinction because of climate change.
WWF
The discoveries include 100 plants, 28 fish, 18 reptiles, 14 amphibians, two mammals and one bird species in the region that spreads over Vietnam, Cambodia, Thailand, Laos and southern China.
Wildlife and nature guides to the world