Bears in Slovakia
There are an estimated 700-900 bears in Slovakia, though it is difficult to determine their exact number. They are present in most mountains of central and north Slovakia.
Bear tracking trip in the the High Tatras in Slovakia. Expert guides and rangers lead the bear project. Participants search not only for bears, but also wolves and wildcats, etc.
Slovakian bears (excellent page in English and Slovak)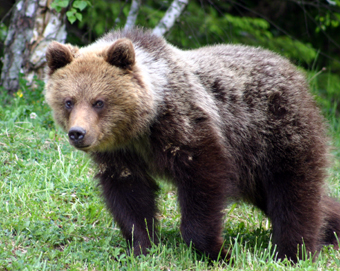 With increased numbers of brown bears (Ursus arctos) in Slovakia since the second half of the 20th century, conflicts between people and bears have increased. Dangerous situations arise for example due to poor storage of food or refuse. Negative aspects of bears often make news headlines, promoting a heightened sense of fear. The Slovak Wildlife Society responded to this situation by launching the B.E.A.R.S. Project: Bear Education, Awareness and Research in Slovakia. By finding ways to mitigate conflicts, providing information as well as practical help on how to prevent problems, we hope to foster greater understanding and acceptance of bears.
The B.E.A.R.S Project: Bear Education, Awareness and Research in Slovakia Wolves and Humans
Brown bears were almost eradicated from Slovakia in the 1930s, due to excessive hunting and persecution. Today there are thought to be around 600-800 bears, and they are protected by both national and international legislation. The population appears to be stable, but there is concern that this could change, as habitat is lost or fragmented by development and the construction of new motorways. There may also be an increase in bear-human conflicts as people occupy more of the bears' range. No one has been killed by a bear in Slovakia for decades, but each year during encounters with bears several people are injured, some of them badly, and damage to beehives, livestock and crops is common.
Preventive measures and bear conservation in Slovakia
Following successful recovery of the bear population in Slovakia, bear-human conflicts have increased. Unfortunately, this is also threatening public support for continued protection and measures necessary for long-term survival. Dangerous situations arise due to poor food/waste management and deliberate luring of bears as tourist attractions. The level of awareness among residents and tourists of appropriate behaviour in bear country is low. Negative aspects of bears often make news headlines, promoting a sense of fear. The hunting lobby is calling for a substantial reduction in bear numbers.
Tracking brown bears in Slovakia
Account of tracking brown bears in Slovakia's High Tatras. The High Tatras are the highest part of the Carpathian mountain range. Current estimates reckon there are about 800 brown bears in the High Tatras. Thanks to enlightened protection policies in the 1930s and the creation of Tatra national park in 1948, the bears here have survived, while in the rest of Europe the were decimated by hunting.
Wildlife and nature guides to the world