Polar bears doing well in Norway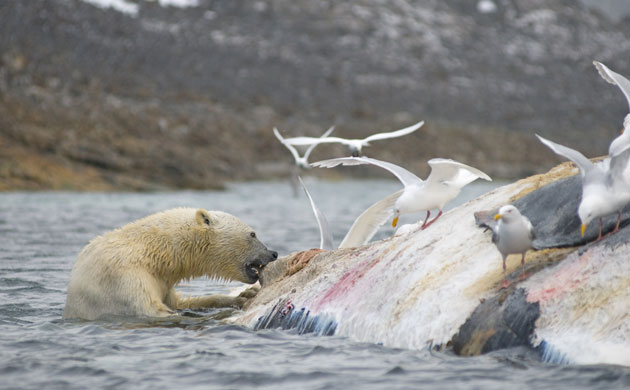 Numbers of polar bears in Svalbard, Norway, are increasing, possibly one of only two growing populations in the world, alongside another in Canada. The reason: Norway has enforced strict hunting bans on the bears and some of their prey since the 1970s. Walrus numbers are up since the ban on their hunting in 1952 and it could be the reason for more bears: there is more prey. See story of these bears told with fantastic pictures here in The Guardian.
Facts about Svalbard's polar bears
A Norwegian road sign used on Svalbard to warn about the presence of polar bears. Here
In Svalbard the polar bear is referred to as Isbjørn or the "ice bear". There are some 1500 bears on the archipelago. Since polar bears are common on Svalbard and hunt humans on occasion, people need to take precautions when outside the settlements: this includes carrying a rifle. Nevertheless, the law protects polar bears, forbidding anyone to harm or disturb them unless it is necessary to avert personal injury
This article is an excellent review of polar bears in Svalbard, and what to do if you encounter one. It notes: "In Svalbard, people have been killed on several occasions, including incidents in recent years. On average, three bears have been killed every year during the period from 1993 to 2004 in encounters with humans, i.e. in self-defence.
The tiny island of Kongsoya has the highest recorded density of polar bear dens in the world: in 1980 at Bogen on Kongsoya there were 12 dens per km² and in August 1984, 168 bears were observed on the island!"

Interesting selection of wildlife holidays in Svalbard and its largest island Spitzerbergen here
Pages